Web Design and WordPress Theme Development
Kernix Web Design is a WordPress website design company specializing in custom WordPress themes located in Springfield, PA. We offer responsive web design, custom-built & customized WordPress themes, site maintenance, website performance, and more. Whether you need your existing site improved or are thinking of creating your first site, we can guide you through the process from start to finish. We offer monthly maintenance packages so you can concentrate on creating content for your business. Take a look at our services listed below and contact us to schedule a free consultation.
HOW CAN WE HELP?
What We Do
WordPress Configuration
We can help you with buying your domain name, choosing a web hosting package, getting an SSL certificate, installing WordPress, and setting up and configuring your theme and plugins.
Theme Development
This site was built with our custom responsive theme and we can build a custom theme for your business. We can also customize your current theme with a child theme and editing the template files.
Maintenance and Support
We install plugins for speed, security, backups, and optimization. We will update WordPress core, themes, and plugins on a daily basis so that your website is is secure and performing at its best.
Website Design
We design fully functional responsive websites for all devices and screen sizes for both static HTML or WordPress websites. Give us your design to replicate, or let us design your website for you.
Website Performance
We will optimize your website performance by reducing page load time, optimizing images and databases, adding expiry headers, using server-side caching, and reducing render-blocking sources.
Security
We will protect your website through securing the wp-content and wp-includes folders, disabling XML-RPC and WordPress file editing, blocking script injection, directory browsing, and more.
Other Services We Provide
Search Engine Optimization
Search Engine Optimization is an advanced topic and we are not experts. There are websites whose business is geared towards getting your site to rank high in the search engine results pages (SERPs). This is not a service we provide but we do have free PDF files that will help a beginner navigate the SEO waters.
Custom Website Logo
If you have a design for a logo but don't know how to create it yourself, then let us do it for you. And if you do not have a design then we'll create various logos for you. The cost is $50 per final design.
WordPress Training
We offer beginner, intermediate, and advanced classes on all things WordPress. The first hour is free and subsequent hours are $75.
Beginner: Covers WordPress installation & setup, singing into & learning the admin dashboard, publishing pages and posts, and other basic settings.
Intermediate: Covers plugin installation and configuration, theme customization, and an intro to page speed optimization.
Advanced: Covers page builders, WooCommerce, an intro to search engine optimization (SEO), and a deeper dive into page speed optimization
Start Learning!
We Guarantee Responsive Web Design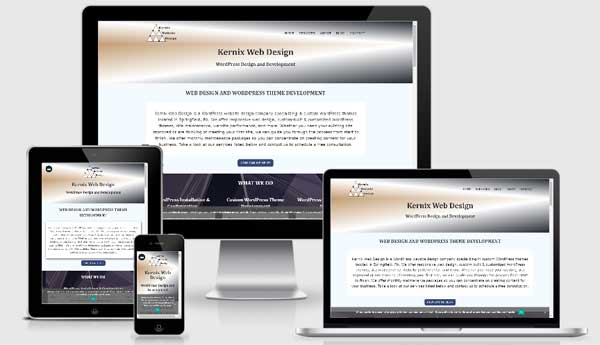 What is responsive web design?
Responsive web design (RWD) is a design method where the content and layout on the page dynamically changes based on the screen size of the device that is being used to view the page.
What is required for responsive design?
Setting attributes in a meta tag, using ems, rems, and %'s, images set to max-width of 100%, the use of media queries, and a lot of testing using the inspect tool in Chrome and Firefox.
Let us know how we can help you